Hi everyone! My name is Lisa, & you can find me over at Tales of a Young Housewife. I'm just another stay at home mama that is obsessed with taking pictures of my 6 month old daughter Aubrey, hanging out with my husband Steve, traveling, blogging & all things girly!
Before I was a mama, I was a full-time office manager of a dental office & loved it. I felt I was good at it, & I won't lie--I loved having an excuse to wear pencil skirts & stilettos on a daily basis. I decided to quit my job the day I had my daughter. While I was pregnant, I had full intentions of going back to work after my six-week maternity leave was up, but the second I laid eyes on Aubrey, I knew I wanted to be her full-time mama.
These days, I am doing my best to adjust to my new lifestyle, & I find that I'm falling in love with all that comes with being a housewife & mom. Having a clean house & homemade dinners were few & far between when I was working full time. Sure, I don't get the satisfaction of a paycheck in a shiny window-envelope every two weeks, but in the long-run I know I won't regret spending each & every moment with my baby girl.
I'd love for you to come visit us here, & see what we are all about on our corner of the blogging neighborhood. I'm also having a giveaway this week for these ADORABLE necklaces: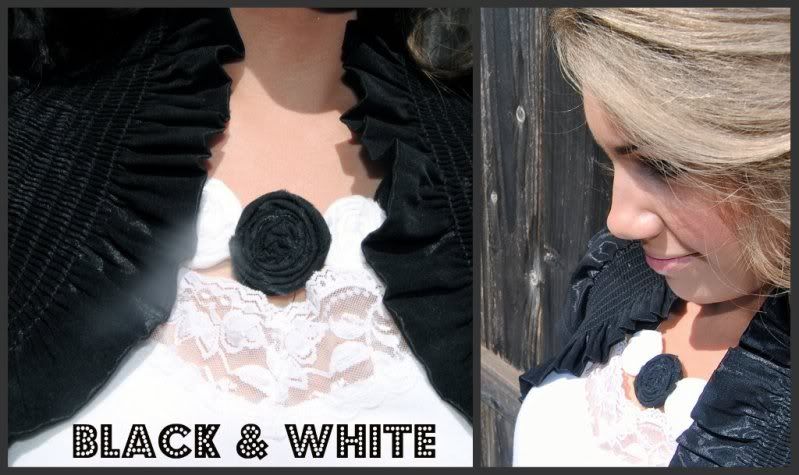 Aren't they adorable? They are from this etsy shop & everything they sell is TO DIE FOR. Definitely check them out.
All you have to do to enter the giveaway is be a follower of my blog & leave a comment telling me which one you like best. (black & white or pink & white). If you post a link to my blog on your Facebook or your blog letting people know about my giveaway, you get an extra entry ;)